AFFORDABLE AND CONVENIENT.
Pests are always looking for a place to call home, which unfortunately means your home could be next. With our Quarterly indoor and outdoor pest control services, you'll enjoy the peace of mind that comes with knowing your family and home are protected.  Residential pest control is often needed year-round in the Lowcountry due to the area's muggy climate. Many common household pests in the area like cockroaches, mosquitoes and ants are much more than a nuisance—they can pose serious health risks to you and your family. We provide effective, environmentally friendly solutions to your residential and commercial Pest Management needs.
WE'RE NOT SATISFIED, UNTIL YOU ARE.
Our Custom Pest Management Service Includes:
Thorough inspection of the interior and exterior of your home or business.
Application of baits in concealed areas when applicable.
Removal of cobwebs that are accessible and within reach at the time of service.
Key service available (you don't have to be present for your pest management appointment).
Application of granule products around the perimeter of the structure where applicable.
We strive for you to have the same technician at each service, he/she becomes familiar with you and your property.
Our basic service provides coverage for roaches, ants and more.  Additional charge for occasional invaders, such as Indian meal moths, fleas, wasps, carpenter bees, carpenter ants, mosquitoes, yellow jackets, hornets and bed bugs.
INITIAL SERVICE:
During the first service of an annual agreement, we provide a complete interior treatment and inspection for pests, including the attic and crawl space when they are accessible. This ensures if there are any issues inside, that action will be taken to eradicate it that day.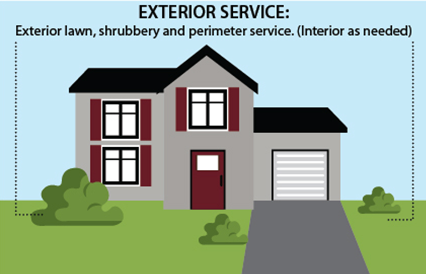 EXTERIOR SERVICE
*FREQUENCY: 4 Quarterly treatments per year create a protective pest barrier. **Interior service on as a needed basis, not included with each quarterly service.
SERVICE INCLUDES:  The application of liquid and granule products according to their label around the perimeter of your structure. Inspecting and treating any harborage areas around the structure.  Identifying and treating any potential access points while making recommendations for repairs and or shrub tree trimming when needed.  We also make one last lap around the structure removing any spider webs and wasps nests we can reach.

INTERIOR & EXTERIOR SERVICE
*FREQUENCY:  4 Quarterly treatments per year create a protective pest barrier.
SERVICE INCLUDES:  All the service provided with our exterior service along with a full interior inspection of the structure. During the interior inspection your technician will be equipped with the tools and products needed to treat any potential access points, such as doors, wall voids, plumbing penetrations and garage areas.